Item added to your basket

Visa signage delivers value to your business
When Visa signage is displayed on the merchant entrance, consumers surveyed in the EU are:
4X more likely to spend more
2X more likely to enter an unfamiliar store
Value of Visa research was commissioned by Visa, and conducted by an independent research firm, Ipsos Loyalty, using an online survey among credit, debit or prepaid cardholders in June 2017. Based on the average of Extremely likely and Very Likely respondents in the Grocery, Retail, Restaurants and Travel/Entertainment categories combined. Lift is relative to absence of signage.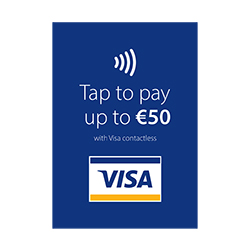 A5 card A5 table sign Tap up to €50 (Ireland)
€ 0.00 Each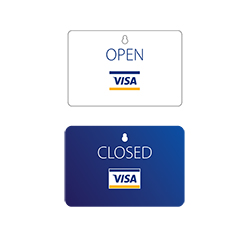 Open - Closed Large Sign 18cm x 12cm (EN)
€ 0.00 Each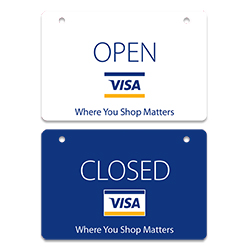 Open-Closed sign
€ 0.00 Each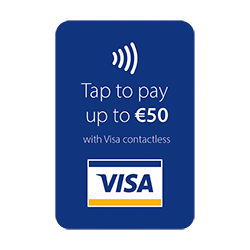 Register decal Terminal sticker Tap up to €50 – (Ireland)
€ 0.00 Each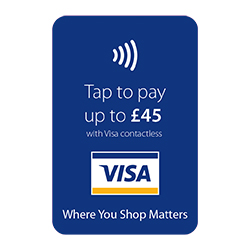 Register terminal decal Tap to Pay up to £45
€ 0.00 Each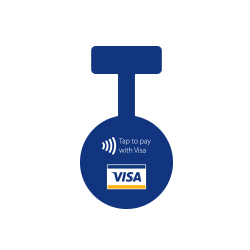 Tap to Pay with Visa 18cm x 12cm Blue (EN)
€ 0.00 Each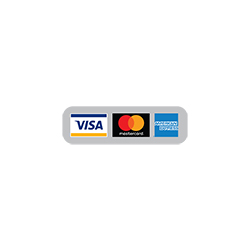 Terminal Sticker 10cm x 2.5cm - Transparent (EN)
€ 0.00 Each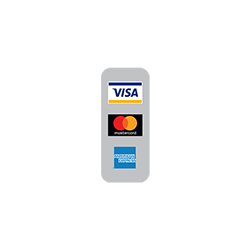 Terminal Sticker 3.8cm x 10cm - Transparent (EN)
€ 0.00 Each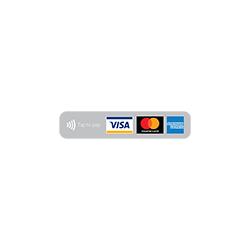 Terminal Sticker Tap 15.2cm x 2.5cm Transparent (EN)
€ 0.00 Each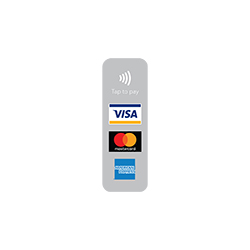 Terminal Sticker Tap 3.8cm x 12.7cm Transparent (EN)
€ 0.00 Each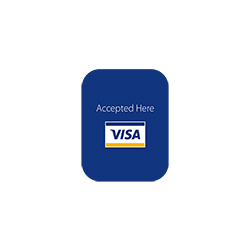 Terminal Stickers Accepted 7.6cm x 10cm Blue (EN)
€ 0.00 Each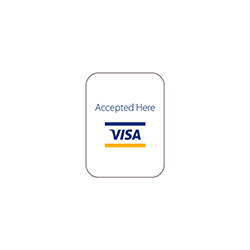 Terminal Stickers Accepted 7.6cm x 10cm White (EN)
€ 0.00 Each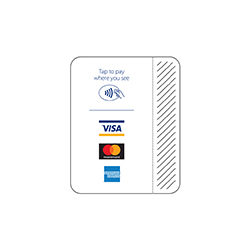 Terminal topper taptopay 10cm x 12cm white (EN)
€ 0.00 Each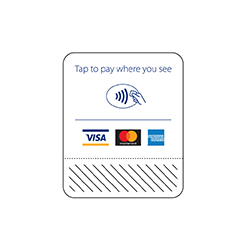 Terminal topper taptopay 7.6cm x 9.1 white (EN)
€ 0.00 Each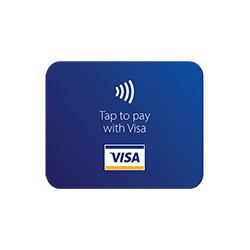 Visa POS Mat (EN)
€ 0.00 Each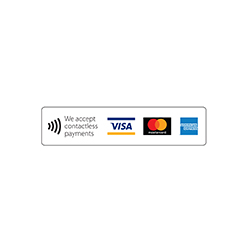 Window Decal - TapToPay Visa, MC, AMEX 17.7cm x 3.8cm White (EN)
€ 0.00 Each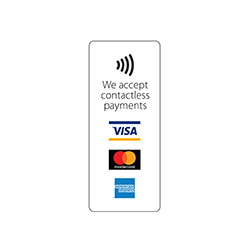 Window Decal - TapToPay Visa, MC, AMEX 6.3cm x 15.2cm White (EN)
€ 0.00 Each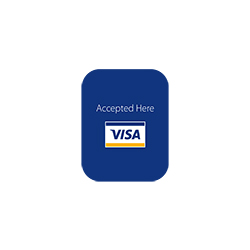 Window Decal blue Accepted Here Size 7.6cm x 15.4cm (EN)
€ 0.00 Each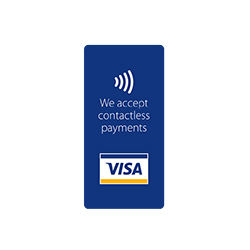 Window Decal Blue TapToPay 7.6cm x 15.2cm (EN)
€ 0.00 Each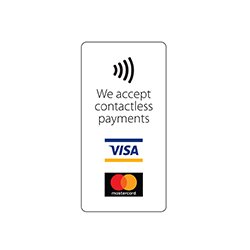 Window Decal TapToPay Visa MC 6.35cm x 12.7cm White (EN)
€ 0.00 Each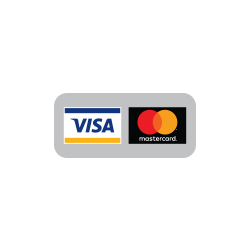 Window Decal Visa 15.2cm x 7.62cm (EN)
€ 0.00 Each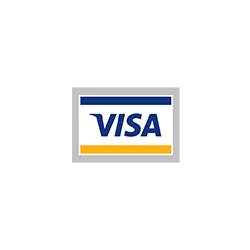 Window Decal Visa 7.6cm x 5cm transparent (EN)
€ 0.00 Each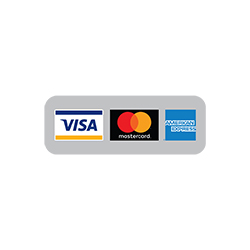 Window Decal Visa MC AMEX 22.8cm x 7.6cm Transparent (EN)
€ 0.00 Each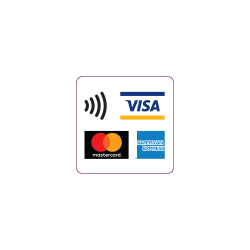 Window Decal Visa MC AMEX 11.4cm x 11.4cm White (EN)
€ 0.00 Each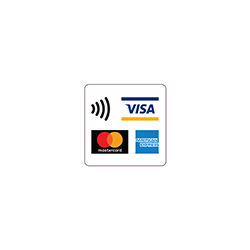 Window Decal Visa MC AMEX 4.5cm x 4.5cm White (FR)
€ 0.00 Each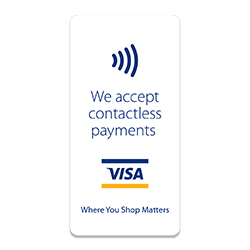 Window decal white
€ 0.00 Each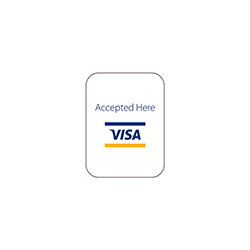 Window Decal White Accepted Here Size 7.6cm x 15.4cm (EN)
€ 0.00 Each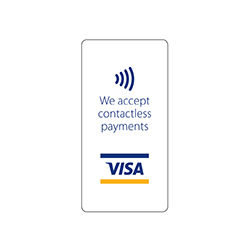 Window Decal White TapToPay 7.6cm x 15.2cm (EN)
€ 0.00 Each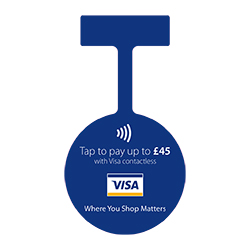 Wobbler Tap to Pay up to £45
€ 0.00 Each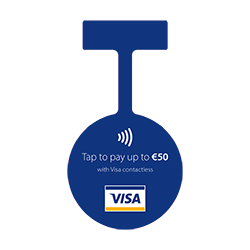 Wobbler Tap to pay up to €50 (Ireland)
€ 0.00 Each